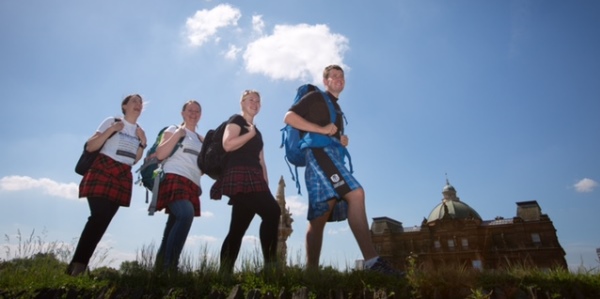 Are you interested in community? Do you love meeting new people and being outdoors? Do you have a gap in your diary in May? If so, it sounds like The Big Walk might be right up your street!

We're searching for people passionate about their community to join us on The Big Walk 2018, for an experience of a lifetime. This May, four teams of walkers will embark on four routes across each of our four nations, covering more than 250 miles across the UK over 21 days.

Each day, along the route, the intrepid wanderers will stop in different communities to shine a light on the amazing groups and events that bring people together where they live. Taking their first steps in May, they will share conversations, food, stories and experiences, before walking home to Big Lunch celebrations on 3 June.

Last year our walkers covered a combined distance of over 1400 miles on foot between 29 May and 18 June, meeting with passionate people who do incredible work in their communities. Get inspired by reading all about their highlights and watching their journey here.

If this sounds like your cup of tea, read this brief to find out more and apply to be one of this year's walkers.

If you have any questions, get in touch with us at communities@edenproject.com or call us on 0845 850 8181 (local rates apply).

Let's get walking!

The Eden Project Communities team

Commonwealth lunching


From the athletes at the 2018 Commonwealth Games in Australia, to the passengers and crew aboard the British Royal Research Ship, RRS James Cook, Commonwealth Big Lunches will be bringing people together this spring. Join in!

Strangers to neighbours


'Nobody really knew each other but that changed with our first Big Lunch. Now... there's a real sense of community, belonging and security'. Sign up for your Big Lunch pack and bring your community closer!


Improve your environment


The Greggs Environmental Grant is offering community organisations up to £2,000 to help improve people's lives by improving the physical environment in your community.

Busting street party myths


Confused about road closures, or getting lost in licences – this handy doc gives you the facts and busts the myths around holding a street party. Hint – it's not as complicated as you think!

View this email online
© The Eden Project, Bodelva, St Austell, Cornwall PL24 2SG
The Eden Project is owned by the Eden Trust. Registered Charity no. 1093070
You have received this email as you are subscribed to an Eden Project mailing list. You can
manage your subscriptions, or unsubscribe
from all Eden Project communications, at any time.
Find out how we store and process your data responsibly in our
privacy policy
.